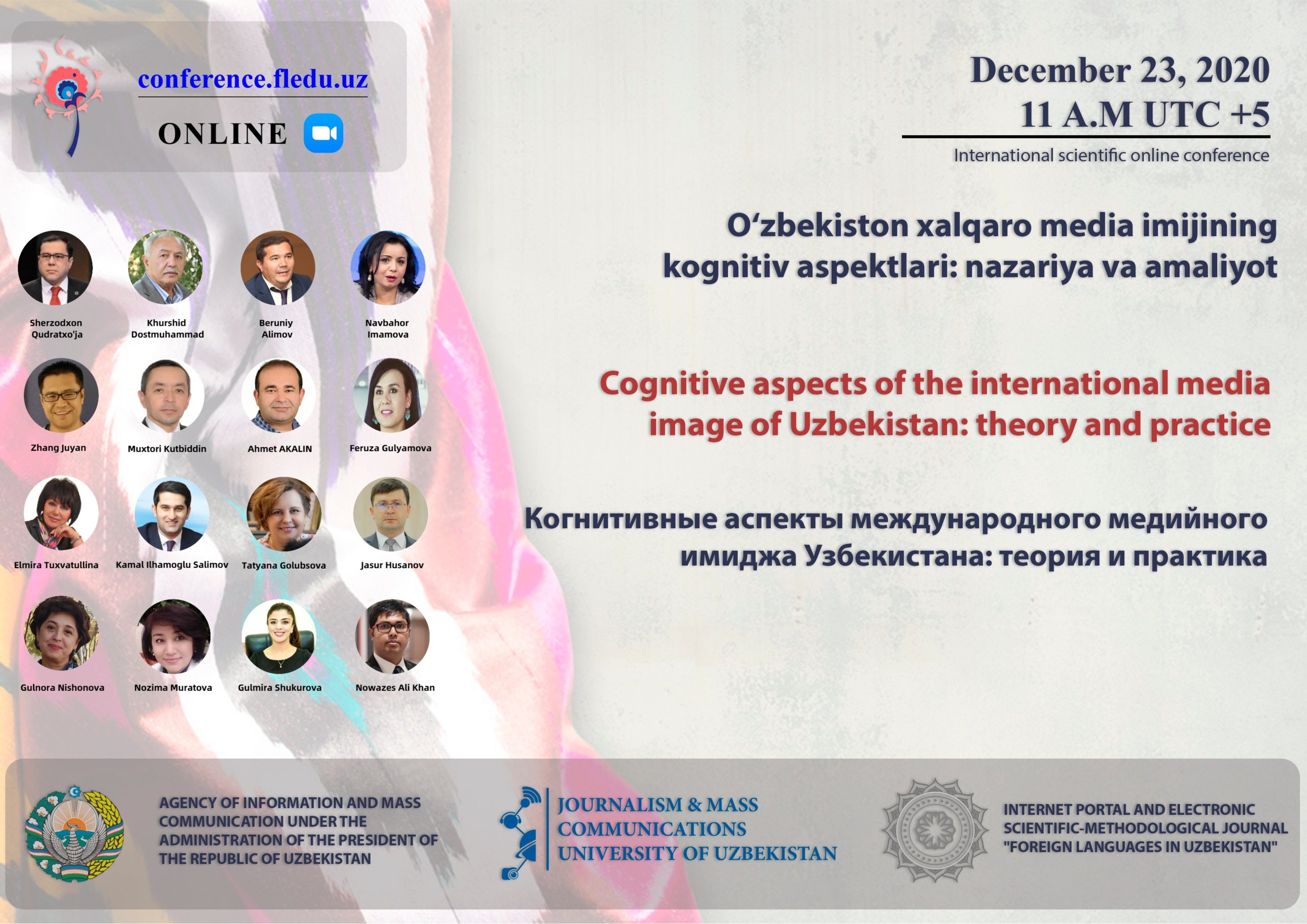 Keynote speakers
Sherzodxon Qudratxo'ja
O'zJOKU rektori, Xalqaro press klub raisi, Siyosiy fanlar nomzodi, dotsent
Xurshid Do'stmuhammad
O'zbekiston Respublikasi Oliy Majlisi deputati, Filologiya fanlari doktori
The image issue of Central Asian countries in the international media space
Beruniy Alimov
O'zDJTU Xalqaro jurnalistika fakulteti dotsenti
The importance of cognition in the process of regional media image formation
We perceive an object or event through our senses, see and hear them. We understand and comprehend the new information received. They are then placed in our memory as a definite quality mark, image, or 'piece of symbol'. Therefore, in the modern media space, it is important to understand the content of information about a country, positive or negative information about the image of the region, to understand the realities of what is happening in the region. In the same process, the person who reads the news is the executor of the cognitive activity. There is a "subject-object relationship" between the subject, that is, the person and the area that is the object of cognitive activity. The main issue is the perception of the person receiving the information in relation to that country. How the country is perceived by the recipient of the information is always important. The nature of any image is closely related to the information stored in the subconscious. For this reason, the study of image in a cognitive context is required. The problem of formation and development of the regional image is one of the interdisciplinary studies from the theoretical and methodological point of view.
Navbahor Imamova
"Amerika ovozi" teleradiokanali muharriri, AQSh
"O'zbekistonning bugungi "imij siyosati" xalqaro jurnalist tahlilida"
Zhang Juan
Texas universiteti kommunikatsiya fakulteti professori, AQSh
The image issue of Central Asian countries in the international media space
Central Asia, known as the "Heart of the Eurasia", has played a pivotal role in human history. It sits right in the center of what the British geographer Halford John Mackinder labeled as the world's "Heartland" in his 1904 report. It has been the converging point of the great civilizations since ancient times. It connects the East and the West by serving as a hub right in the middle of the Silk Road. In history, major powers have competed to dominate and control it; world religions, including Buddhism, Christianity and Islam have spread through it.
Kutbiddin Muxtori
Tojikiston milliy universiteti jurnalistika fakulteti dotsenti, Tojikiston
Формат работы правительственных пресс-служб в современных условиях в Таджикистане
Работа в формате пресс-служб для Таджикистана, как и для всех постсоветских стран явление относительно новое.  Хотя подструктура пресс-службы в государственных и коммерческих структурах в мировом опыте имеет больше чем двухсотлетнюю историю. И этому вопросу посвящен ряд исследований, многие из которых рассматривают пресс-службу наряду со связям с общественностью. Мы считаем, что вопрос совместимости или отдельности пресс-службы и связей с общественности потребует отдельного изучения, который потребует особого внимания исследователей и является очень актуальным вопросом на данном этапе развития коммуникативных технологий и методов.
Tojikiston zamonaviy muhitida hukumat axborot xizmatlari faoliyatining shakli
Ahmet Akalin
PhD, Anqara universiteti, kommunikatsiya fakulteti, Turkiya
With the end of the cold war that encounters the period Uzbekistan gained her independency, international relations discipline underwent a radical change all around the world. Since then, States in international politics has begun to embark on and realise the soft power along with hard power. Soft power, therefore, has gained importance as the most effective strategy in developing closer cooperation and in creating diplomatic ties and cultural interactions. In particular, transfer of components of culture, an element of soft power, into foreign societies has inspired interest. According to Nye who coined the concept "soft power", elements of soft power are considered as potential elements to help a nation shape the world. To this end, it is important to increase the familiarity of the cultural properties that create the soft power of Uzbekistan that has a cultural heritage affecting the world and in particular continent of Asia.
Elmira Tuxvatullina
"Dunyo bo'ylab" telekanali direktori o'rinbosari
Роль телевидения в формировании туристического имиджа страны в условиях глобализации
Kemal İlhamoğlu
İzmir Ege University, PhD student-journalist
Cultural structures in Uzbekistan from the perspective of Postcolonial Criticism
The colonial period and the events that took place after it had an important effect on shaping the future of societies. The concept of postcolonialism also helps us see what fate the colonized states would have had if they had not been colonized. Postcolonial theory, an academic field of study, became a part of the criticism field in the 1970s. Many thinkers interested in postcolonialism consider Edward Said's book Orientalism as the masterpiece of this theory.
Tatyana Golubsova
Медиатренер, эксперт по медиаграмотности, консалтинговый центр «Выбирай PRO»
Имидж должен формироваться как для внешней аудитории, так и для внутренней. Они взаимосвязаны: если имидж внутри страны положительный, то вероятнее всего и среди внешних аудиторий страна будет иметь положительный отклик.
«Имидж объективный
 - это впечатление от страны, которое существует у внутренней или зарубежной общественности.
Jasur Husanov
AOKA, Axborot xizmatlari faoliyatini tashkil etish va muvofiqlashtirish boshqarmasi boshlig'i
The role of television in shaping the country's tourist image in the context of globalization
Gulnora Nishonova
XXI asr axborot makonida mamlakat brendingi Maqolada mamlakat brendingi, uning mazmun-mohiyati va ahamiyati haqida so'z boradi. Bugun brending nafaqat tovar va xizmatlarga, balki mamlakatlarga, davlatlarga, millatlarga va shuningdek, ayrim hududlarga nisbatan qo'llanilayotgani va taraqqiy etgan davlatlarda bu borada mutaxassislar strategik dasturlar asosida ish olib borayotganlari ma'lum. Maqolada mamlakat brendi qanday bo'lishi kerakligi, bu jarayonning murakkabligi va uning jamiyat hayoti, iqtisodiyotiga ta'siri tahlilga tortiladi. Brending amaliy faoliyat va kafolat asosida yaratiladi. Uni yaratishda olti omil mavjud: aholi, hokimiyat, eksport, turizm, madaniyat va meros, investitsiya va immigratsiya. Maqolada ushbu omillar milliy brendning asosiy yo'nalishlarini aks ettirishi haqida tahliliy fikrlar bildirilgan.
Nozima Muratova
O'zJOKU ilmiy ishlar va innovatsiyalar bo'yicha prorektor
Mamlakat imidjini shakllantirishda xalkaro reytinglarning urni va axamiyati
Nowazes Ali Khan
PhD, Seljuk universiteti doktoranti
The image of Uzbekistan in South Asia: A general overview from Bangladesh
Turkic-Mongol originated Muslim dynasty ruled South Asia for hundred of years till coming under the British colonial powers. It was established by the grandson of Timur, who was born in Central Asia (Uzbekistan). Pakistan, India, and Bangladesh have a strong historical background with Uzbekistan. In South Asian countries still, there are many common cultures in their society, words in the languages, design in the architectures, etc. After a hundred years of the British ruling in south Asia, the south Asian people have became adept to the western formats. During the cold war, most of the South Asian countries took a new shape and divided by western and soviet ideologies. The people of South Asia, consume western media productions which are filtered by western policies or ideologies. Therefore the people of South Asia lost their connection with Uzbek affinities. After the breaking down of the Soviet Union and thus the independence of the Republic of Uzbekistan begun a new era for diplomatic relations with many countries. Besides a diplomatic relation between two countries media has a big role to make an image of a country. This study will analyze the image of Uzbekistan in South Asia from the perspective and a general overview from Bangladesh.
Feruza Gulyamova
"Dunyo bo'ylab" telekanali yetakchi muharriri
Роль рекламы в формировании имиджа  страны
Одним из важных аспектов общего восприятия чего-либо является впечатление, которое оно производит, то есть ее имидж. Развитие рыночной экономики повлекло за собой увеличение категорий субъектов, заинтересованных в правильном и действенном формировании собственного имиджа. Поэтому тема формирования имиджа, в том числе и рекламными средствами, является очень актуальной.
YouTube Video
Session speakers
Ilmira Rahmatullayeva
San'atshunoslik fanlari nomzodi, O'zJOKU PR va xalqaro kommunikatsiya kafedrasi dotsenti
Zamonaviy media makonida mamlakat imijini shakllantirish bugungi kunda dolzarb masalalardan biri bo'lib qoldi. Ijtimoiy tarmoqlar, saytlarda mamlakatimizning ijtimoiy- iqtisodiy hayotidagi muammolar qatorida, mahalliy hukumat organlari, davlat idoralari faoliyati keskin  tanqid qilinmoqda. Ko'plab chiqishlarda milliy va axloqiy qadriyatlar zavol topgani ko'zga tashlanmoqda. Mamlakat imijini yaratish masalasi nihoyatda mashaqqatli bo'lgani uchun, tadqiqotchilar    bu  jarayonni to'liq nazorat ostiga olish mumkin emas, deb hisoblaydilar. Chunki, imijni yaratishda  hech qanday manipulyatsiya bo'lishi kerak emas, bu ob'ektga mos kelishi, unga mutanosib bo'lishi kerak . Ushbu maqolada   ommaviy axborot vositalaridagi rang-barang chiqishlardan uning salohiyatidan qanday qilib ma'lum bir mamlakatga, uning ichki va tashqi maydondagi obro'siga zarar   emas, balki foydasi uchun foydalanish mumkinligi haqida so'z boradi.
Karim Bahriyev
O'zJOKU "Media nazariyasi va amaliyoti" kafedrasi o'qituvchisi
Ushbu maqola  muqaddimasida " imij" so'zining  lug'aviy ma'nosi, uning hayotimizning bir bo'lagiga aylangani haqida so'z borib, uning butun dunyodagi  tamoyillari, ko'rinishlariga baho beriladi.   O'zbekistonning imiji yaxshilanishi har bir xorijga chiqqan vatandoshimiz o'zining  o'zbek ekanligini va o'zbekistonlik ekanligini har lahza yodida tutsa, birovlar bilan muomalada ham,   biznesda ham mamlakatimiz, millatimiz va dinimiz sha'nini munosib tutsa, adolatli, halol va vijdonan o'zini ko'rsatsa, shunda o'sha chet elda O'zbekiston va o'zbek imidji yaxshilanishi,shuning barobarida  davlat o'z xalqining insoniy huquq va erkinliklarini himoya qilsa, sudlar adolatli bo'lsa, huquqni himoya qilish idoralarining o'zidan xalqni himoya qilishga to'g'ri kelmasa, mehnatkash xalqning mulkiy huquqlari muhofaza qilinsa, xalqning arzu dodiga quloq solinsa, siyosiy, iqtisodiy va madaniy huquqlar ta'minlansa, o'shanda O'zbekistonning dunyodagi imidji yuksalishi haqida so'z boradi.